On the morning of the 21st, Alex moved to his new home, and my wife was able to be there the whole day to help with the transition. From what I hear, it was a decent day, but nothing amazing.
On Christmas eve, however, our visit was absolutely awful. Alex had a tantrum that rivaled his old ones at home, at least in terms of intensity. It didn't last as long as his old ones used to, but there was an incredible amount of hitting, scratching, kicking, and pretty intense biting. We got very few smiles out of him during the entire two hours we were there. I was extremely worried for him when we left – he was no longer beating himself up, but he was far from happy.
We got a quick video to show what he'd done to his arms (mostly biting, by the looks of it). Our concern here was that these weren't marks he got during our visit, which tells me he was probably having as bad a day on the 22nd or 23rd as he did on the 24th.
Christmas day, we visited again, and with all the presents and excitement, he had a really great day. A good portion of his day was spent in a state of over-stimulation, I think, but he got calmed down by the time we left, and was actually sitting down and eating dinner. This is a big deal to us, because usually when we overstimulated Alex, it would end badly. He'd become completely obsessed with a toy or other object, and be unable to move beyond it. He would eventually get to where he needed the toy, but wasn't getting the happiness out of it that he wanted, and would progressively get more and more angry. Usually these behaviors would result in some spectacular tantrums.
No tantrum was witnessed by us on Christmas.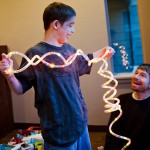 Alex was exceptionally fun and energetic. We were able to spend about three hours with him, and his behavior was never very bad. He had a little bit of self-injurious behavior, but it was very mild compared to the prior day, and didn't last long. Yesterday (New Year's Eve), we had another pretty decent visit. He wasn't as happy as he'd been on Christmas, but for the most part he did very well, and we were able to spend another three hours or so with him.
Here's hoping he starts to settle in and we see our happy little boy on a regular basis.